Do you feel like a guest when entering your new home? Did your remodel leave your home feeling stripped bare? New living spaces feel sterile, and remodeling an existing space can strip away its personality. Either way, your home feels incomplete because it lacks your imprint.
Make Your Home Feel Finished – Starting Today!
Staging makes a house look finished, but creativity makes it feel finished. A finished home reflects its occupants: the rooms are warm and welcoming without overwhelming the senses. The common areas feature colors matching their intended use, and visitors see treasured objects lovingly placed around the rooms. Are you tired of your home looking staged? Make your home feel finished with these suggestions.
1. The Basement
Finishing your basement not only makes your home feel finished, but it also adds living space and value that will come in handy when you're ready to sell. Your basement can become flexible space, a permanent man cave, or an art and craft zone. Basements tend to be dark, but you can lighten your space with new garden-level windows and window wells. Seal the basement's concrete walls with a waterproofing product and cover them with sheetrock. A light neutral color that is boring in other rooms makes the basement brighter. Install overhead lighting fixtures and include task lights on end tables and near work surfaces.
houzz.com
2. Closets
Support that finished feeling with closet organizers. Shoe storage, extra hooks and shelves show the homeowner's emotional investment while keeping things orderly and making it feel less like living out of a suitcase. Neatly arranged closets establish a sense of permanence and make smaller rooms feel larger. Consider installing compartments for folded items and rods specifically for shirts, skirts and blazers, or add units with jewelry and lingerie drawers. You can also build a DIY jewellery caddy for your bedroom wall, giving it a subtle lived-in feeling without making the room look messy.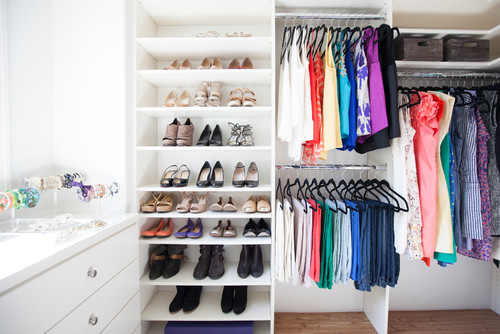 View 3. Landscaping