Your bathroom is your boudoir, a personal area for taking time out and soaking in a luxurious bubble bath. Or perhaps just for escaping the family for ten minutes! However, this room can often get overlooked when it comes to decorating - here are some tips to awaken your washroom:
Small Comforts, Big Difference!
Every room needs to 'feel good' as well as look good, so opt for some soft simplicity as an easy starting point. Replacing your tired towels for some super soft ones, and adding a bath mat that tantalizes your toes, will immediately transform your bathroom for the better. Get rid of any old potpourri, and replace with fresh flowers. This is a quick fix that doesn't have to cost a fortune!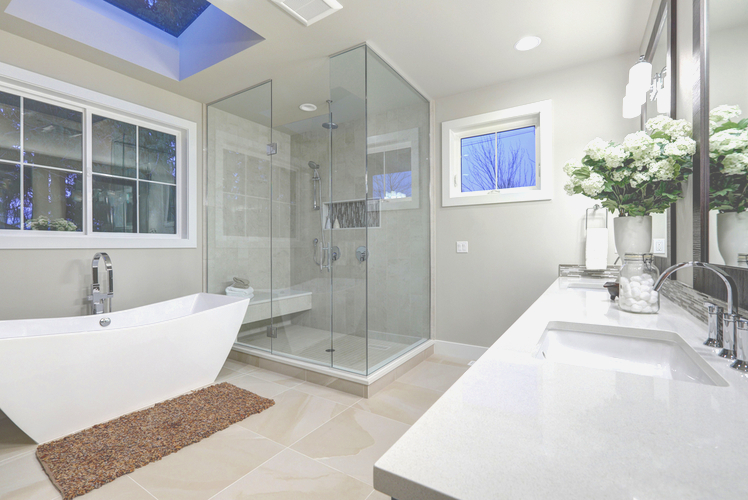 Change Your Mood
Scientific studies have found that combining the right lighting with the right color can affect your mood! Adjusting your existing lighting should not be too big a job or be too costly, but will go a long way toward making the room feel larger and fresher. Fluorescent lighting casts unflattering shadows and can leave areas of the room darker than others. It also feels harsh and remember, we want to feel comfort for our rest breaks.
Change the fixtures or upgrade your bulb to something softer, warmer and more like natural sunlight. Making a statement with your lighting is another option and consider items like hanging pendants and light bars. LED fixtures are the most energy efficient.
Don't Overdo the Hue
Check how your chosen color looks under the new lighting and then go bright and light with the paint. Nothing says clean and fresh like a pristine, lightly colored bathroom! If you do decide to go for a dark or bold color, just be aware that you can make the room feel smaller. So, if you have your heart set such a rich hue, save it for providing accents rather than cover the whole room. You could also paint the cabinets too which will give a lovely flow to the room.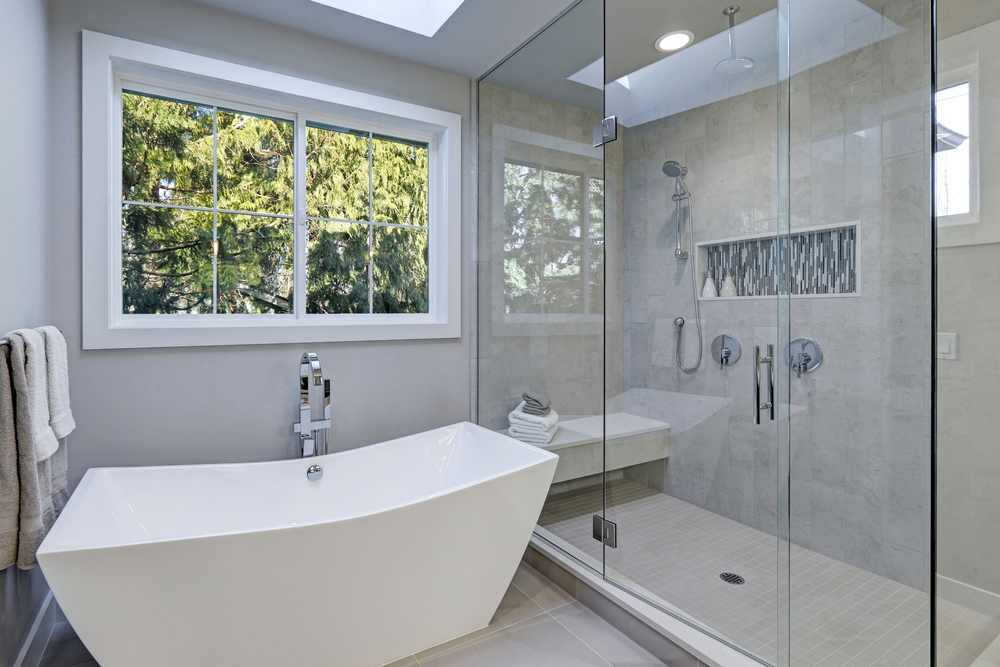 Keep Your Feet Happy
Again, think about how you want the flooring to feel when you walk in first thing in the morning. There are many affordable options including wood effect vinyl floor planks, which are very realistic. These come in a variety of colors, patterns and are also waterproof, which is handy! Some vinyl comes with a rubber backing that provides additional padding and comfort as you walk on it. If you don't have the budget for completely replacing the floor, try investing in a sumptuous rug or mat to make that transition from bed to bathroom just a little bit sweeter in the morning.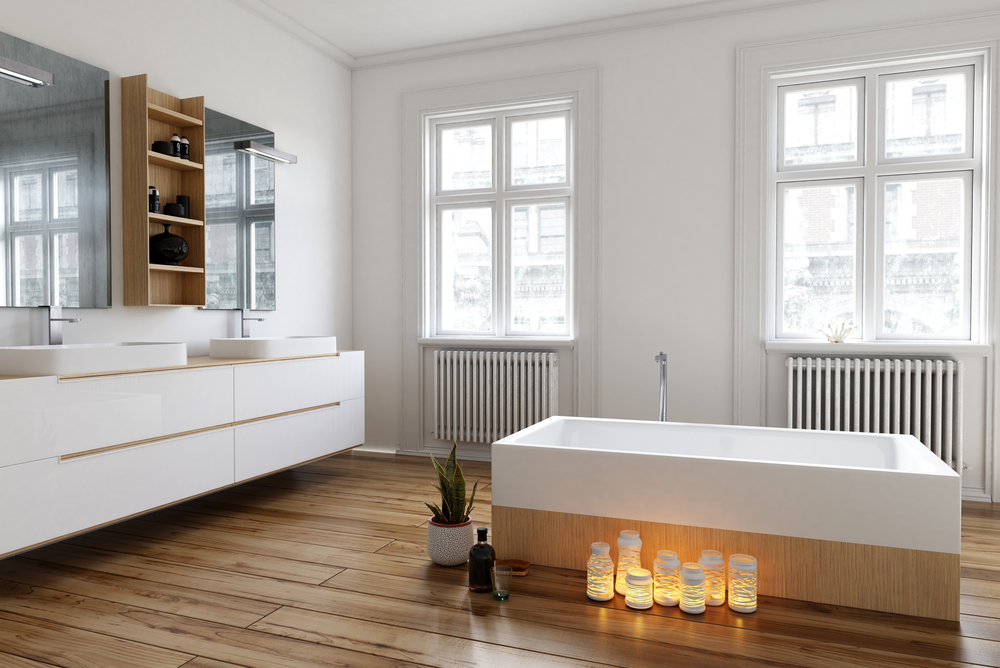 Bring Your Bathroom to Life
Going light and neutral doesn't mean you have to go minimalist. The great thing about neutral is that you can accessorize to your heart's content! Find eye-catching features to complement the colors and style, and these can easily be replaced if your taste's change or fashion does. Bring in a touch of nature for a calming feel by adding small potted plants or if space permits, a standing plant. Adding a splash of color can be done with the towels and rug, and even things like the toothbrush holder can be coordinated. Add some ornaments to a free shelf or some scented candles for those long soaks you've looking forward to after a hard day's work.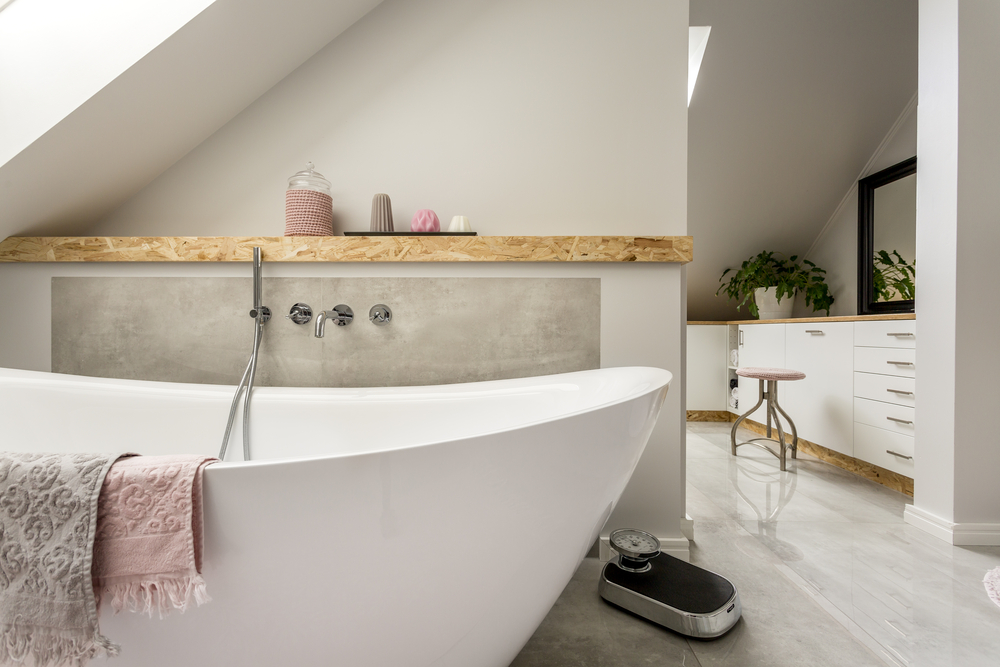 Create the Illusion of Space
Wall mirrors - a simple way to create an eye-catching focal point in your bathroom. They're also great for reflecting the light in such a way as to make the room feel bigger - very useful if your bathroom is a little on the cramped side. Think about simple shapes in multiple, or maybe one large ornate mirror to give a real boudoir feel to your washroom. Go basic and futuristic with the clever use of backlighting for a big impact!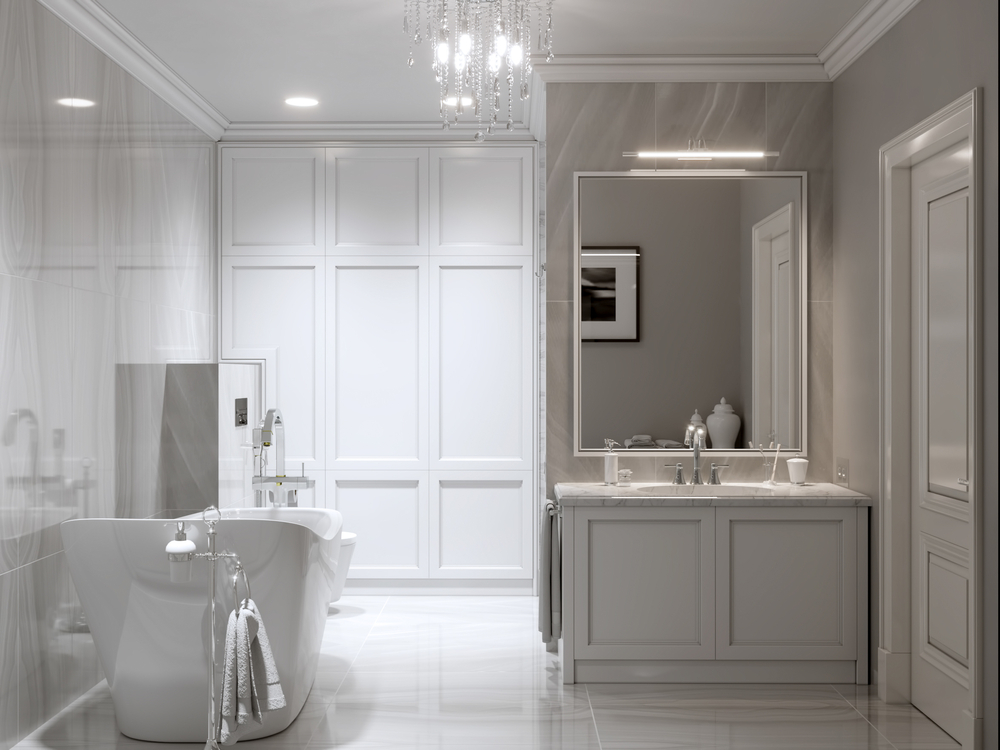 Treat Your Nose Right
If you have a convenient space to display then think about stocking with pretty perfume bottles, sweet-smelling soaps, and lotions. Complete with a dish of fresh oils and scented candles, and the fragrance alone will entice you to stay and indulge. Surrounding yourself with luxurious items will make you feel a million dollars - and brighten your outlook on the bathroom!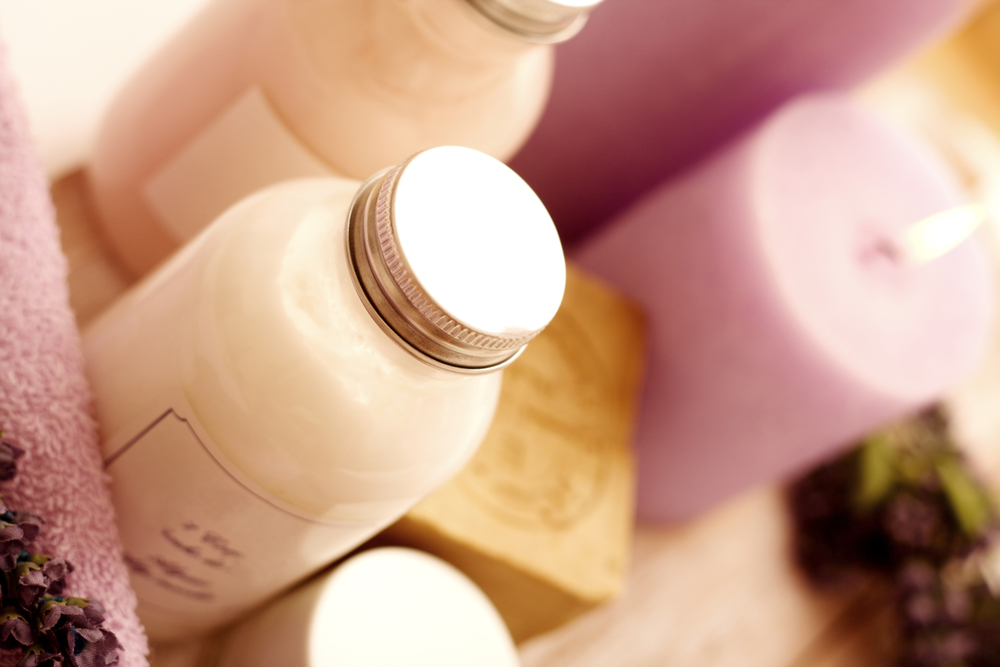 Go Minimal With the Shower
Having a built-in shower screen is less easy to change, but it definitely helps to open up your bathroom. So, if you've currently got a shower curtain, consider swapping this for a glass screen. It'll help to make your bathroom feel more spacious - as long as you clean off those pesky watermark specs so they don't ruin the illusion! If you think your washroom looks a little bland without your once-gaudy shower curtain, then you can always add a bold window curtain for a more rustic feel.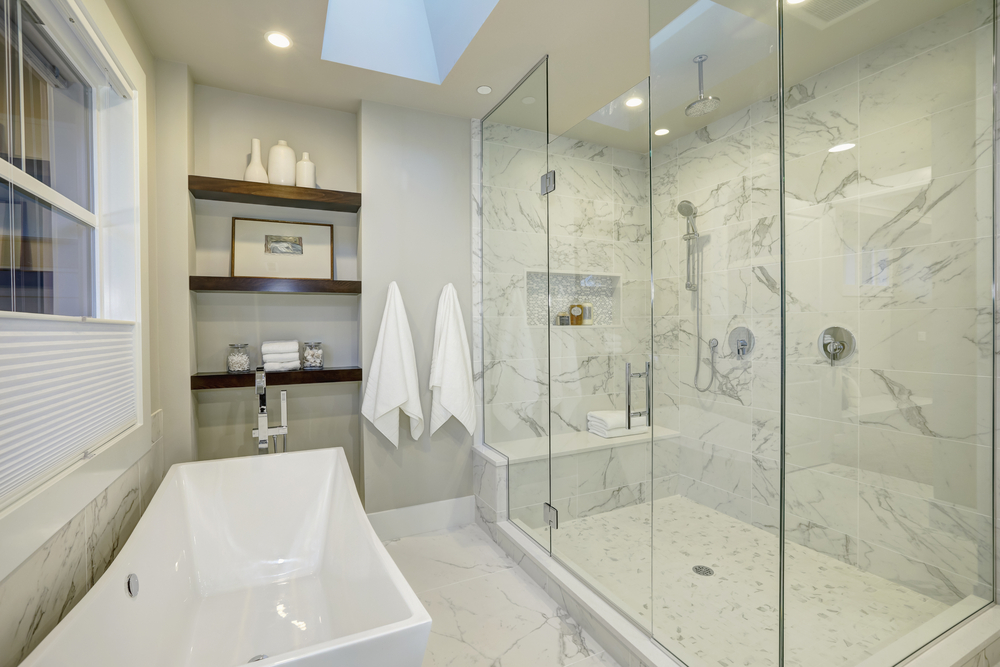 Make Storage Count
Decluttering will always improve a room and free up space you'd forgotten existed! Think about clever ways to store items such as adding pull-out drawers to a cabinet, floating wall shelves, wall-mounted baskets or even using the under-sink space and covering with a sink skirt. This idea will work well if you're going for a vintage, rustic look, too.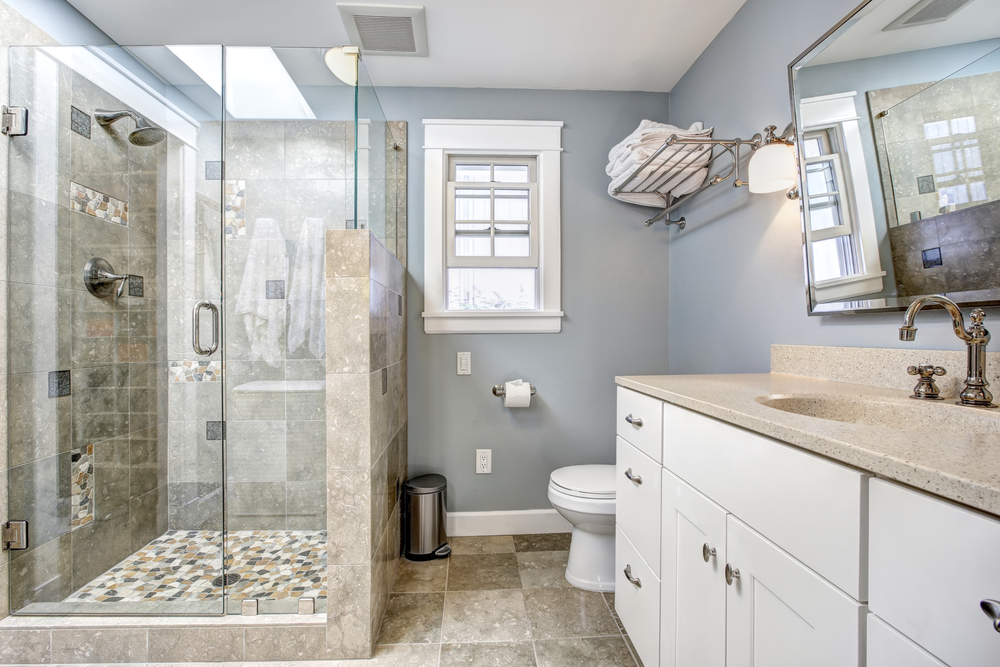 Out With the Old
By this we mean well-worn faucets, drawer pulls, towel bars, toilet roll holders and handles. Replacement is easy, just screw off the old and screw on the new. Updating the old rusty faucets with fresh, modern ones will immediately make you feel better about your bathroom - and it's such a small, affordable change! How about treating yourself to a brand new designer heated towel rail too? Perfect for those nights when there's a chill in the air.