Are you looking around at your home and thinking that you wish you had time to paint the walls? If your next six Saturdays include soccer or baseball games followed by a BBQ with friends, don't worry. You can change the feel of your home with these simple DIY creations in no time and make that old living room feel new again.
Foam Flower Branches
With a sheet of foam, some dry branches and paint, you can create a beautiful free form art project in an old vase. Begin by cutting out petal shapes from the foam sheet, shaping them into curves with your fingers (it helps to heat the petals up first) and then sticking the petals around the tips of each branch using a glue gun. When these are completely dry, paint each petal in coordinating colors and let them dry again. Once set, place it in a vase for a new look in your living room!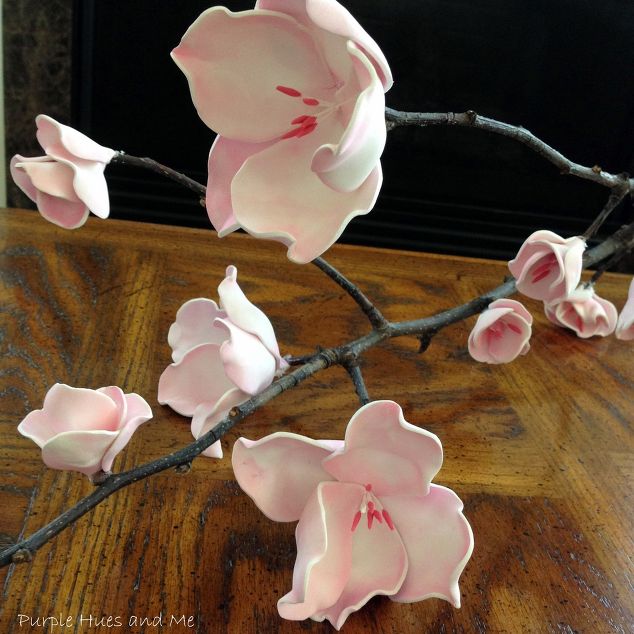 Paint Stick Lamp Shade
If your old lamp shade looks plain and boring, a trip to the local home remodeling store can fix you right up. Pick up plenty of paint stirrers, a small can of gel stain and a hot glue gun. Stain your paint stirrers. When they dry, use the glue gun to attach them to the old lamp shade for an updated look in your living room or den.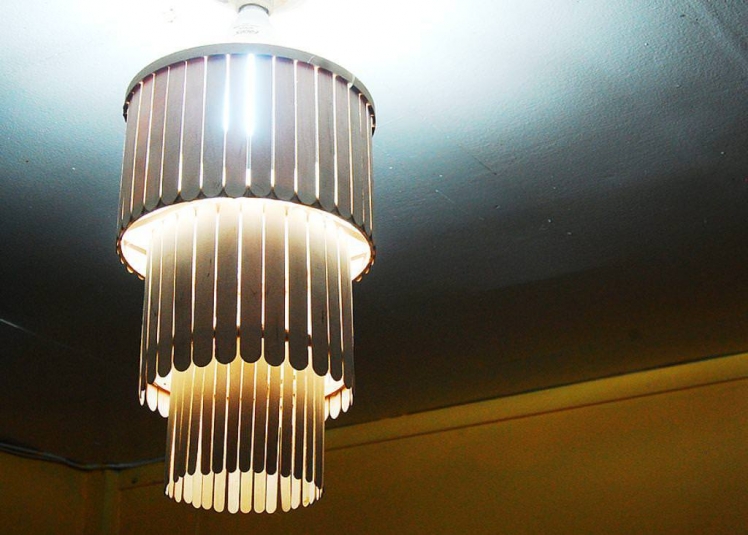 Window Pane Message Center
Update your message center with an old window pane and some fabric. Clean and paint the window pane. Line the backing with a piece of coordinating fabric, then hang it on the wall and use a dry erase marker to leave messages. This message will keep the clutter to a minimum by reducing the number of telephone messages left on the back of junk mail, and it leaves your office or kitchen looking stylish for a great DIY home creations.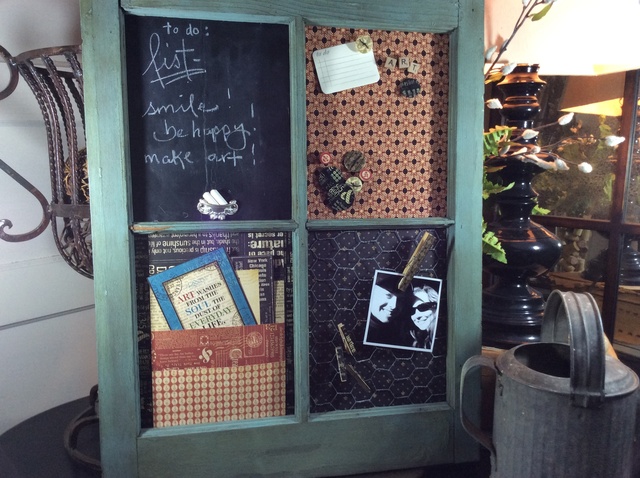 Bookends to make floating bookshelves
Floating shelves are a beautiful accent to any wall. Using an L bracket and a stack of old books, make a shelf. Affix the L bracket to the bottom book then affix the other end of the bracket to the wall. Stack books on top to cover the L bracket, and enjoy the look of books floating on your wall.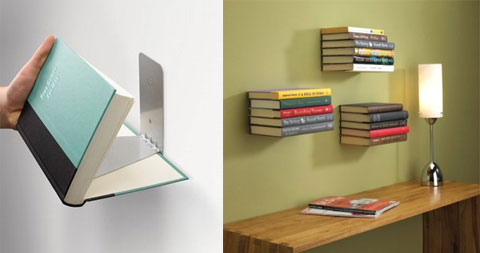 Vintage Coat Rack
One DIY home creation that can be both beautiful and organizational is a coat rack made with an old piece of wood and some cute drawer pulls. To add a bit of color, paint and distress your piece of wood. Drill holes, then add your drawer pulls to hang your coats. Attach the entire setup to the wall, and for a few dollars, your entryway is brand new.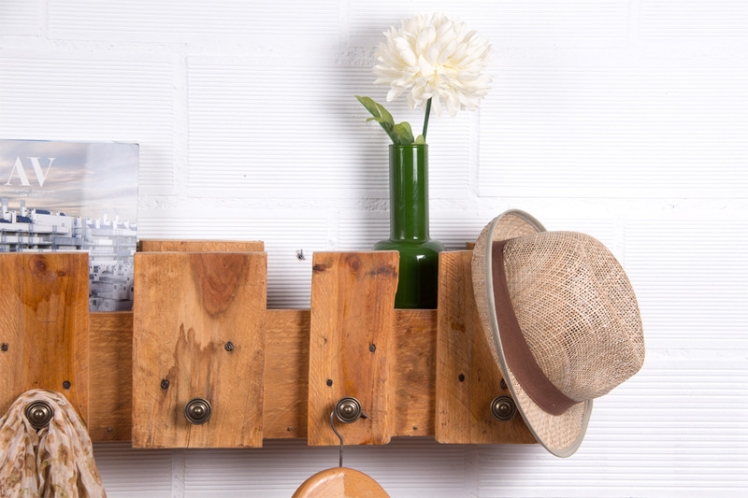 No-Sew Pillow Covers
Nothing makes an old sofa look new like throw pillows. You've shopped the big box stores, looked online and tried the smaller department stores and couldn't find anything that struck your fancy. Thankfully, with a yard of fabric and some patience, you can cover your old throw pillows and bring life to your living room. Lay the fabric out, place the pillow in the center, fold in the outer edges, tie the final two corners together into a neat knot, and then tuck in the ends.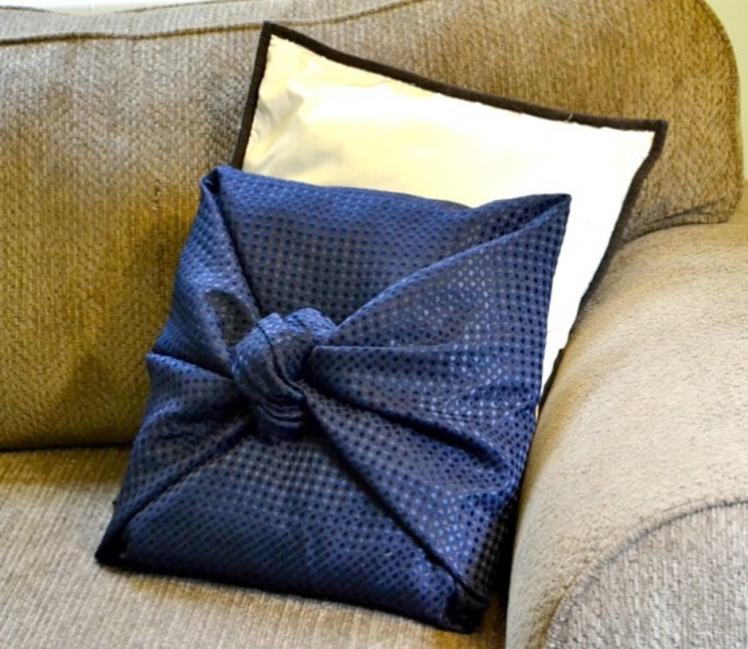 Pebble Welcome Mat
Welcome guests into your home in style. As one of the easiest DIY home creations, this not only brings beauty and nature to your door, but it is also practical and easy to clean. With a black rubber welcome mat, some hot glue and some river pebbles, you'll have a work of art to be stepped on. Simply glue the pebbles to the mat, let dry and place in your entryway. If it gets dirty, take it outside and spray it off, then let it dry in the sun. For a more polished look, you can coat the pebbles in clear polyurethane before gluing them to the mat.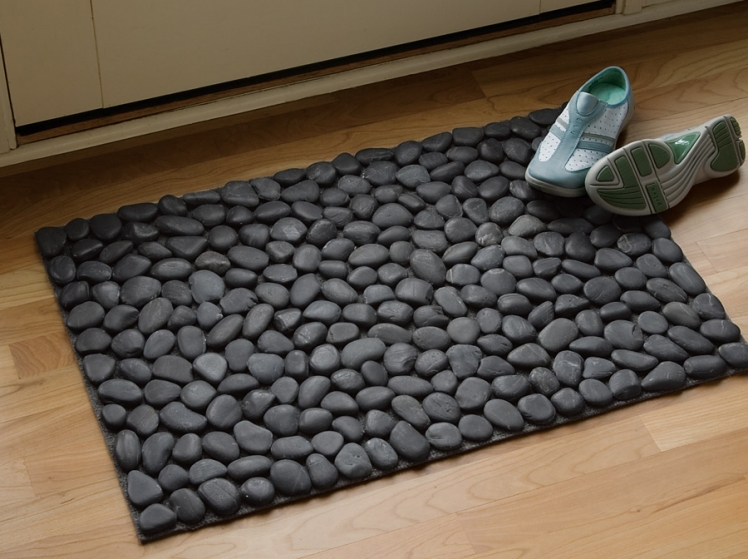 Paint dipped baskets
Every house has wicker baskets. They are independently beautiful, but the neutral color can sometimes blend in to the wall. For a pop of color, dip the basket into some water-based latex paint. This project can be completed in a day, but it may take a little longer to dry. Pour some paint into a bowl or tub with enough room to work, stir the paint thoroughly, then slowly dip the basket into the paint up to the line where you want to stop. Work carefully as the paint will seep up the sides. When you have the paint as high as you would like, carefully lift the basket out let the paint drip off, and hang to dry.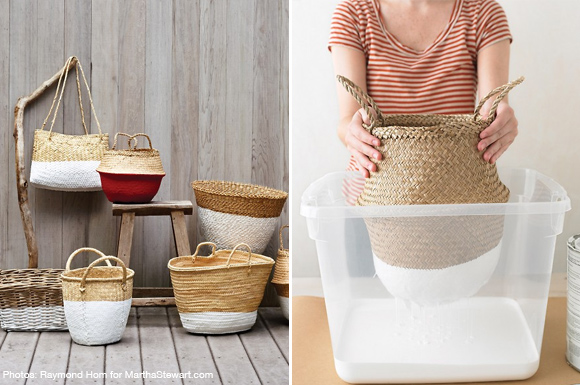 Elegant Tiered Tray
Old chipped mugs or plates from your cupboard or the thrift store, a few candle sticks from the dollar store and some spray paint is all you need to make a beautiful tiered tray. Place a plate on the bottom, glue a candle stick or taller coffee mug to the plate, then add another plate for two tiers or add another mug and plate for a third tier.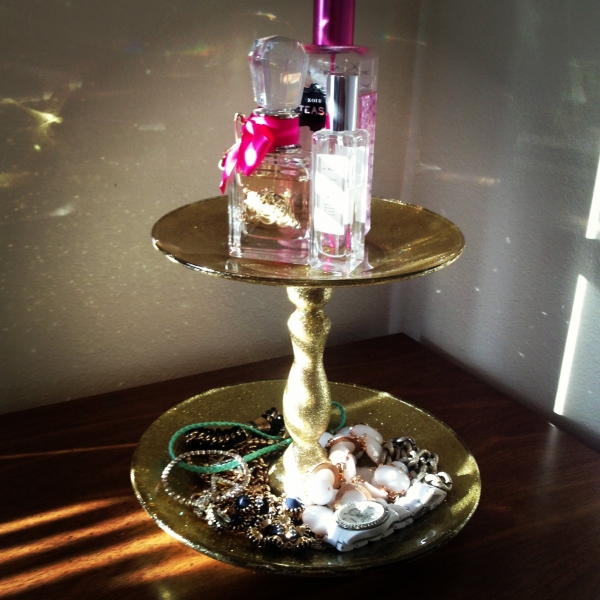 Cotton Rope Basket
A trip to the dollar store for a small laundry basket, some good cotton rope and a glue gun are all you need for this classy and elegant basket. Begin by cleaning the basket thoroughly and letting it dry. Using some hot glue, wrap the basket in rope. Layer with different colors for a nautical feel or use natural cotton for a neutral storage unit. This project will add beauty to your magazine or clutter storage and spring new life in your living room.