Let's face it; if you live in a small space, you're probably constantly battling to keep it looking neat and tidy – especially with children.  Deciding what to keep and what to throw away is an ongoing struggle, as is how to make room for new purchases.  At times it can feel as though you're taking decorating tips from Hoarders, instead of your favorite interior design blog.  Trust me, I know from experience how difficult it can be to keep small spaces looking clutter free, while still holding some of your favorite items.  Luckily, with a little creativity – and some help from solid multipurpose design – it's possible to be well organized even when living in a small space.
1. Multi-Purpose Furniture
It's an ottoman – no wait, it's a place to store extra blankets, or your DVD collection!  Finding pieces of furniture that include storage is a great way to maximize space in small living areas.  Plenty of bedroom furniture, benches, coffee tables and the like come with additional drawers and hidden compartments to stash extra stuff.  Check out local furniture stores – particularly ones that cater to the condo market – for plenty of choice.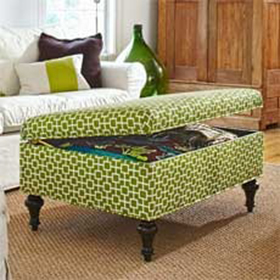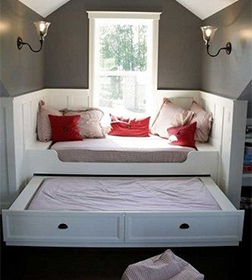 2. Built-Ins
If you're handy – or know someone who has some skills with a hammer – built-in furniture can save plenty of space.  Plus, it allows you to customize your storage options to your needs.  A built-in bench allows for extra seating, and you could add pull out storage in the base!  Or built-in shelving units can help you to ensure that every photograph and memento has the perfect place in your home.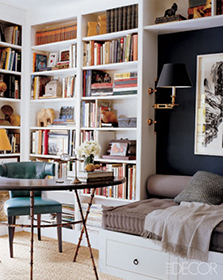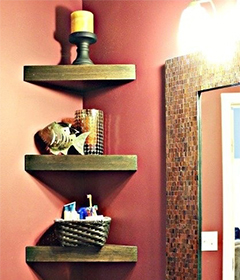 3. Hang It Up
Get creative with shelving, hooks, and display boxes for keeping everything from jewelry to vacation souvenirs organized.  Using a deep-set frame, show-off entrance tickets alongside your favorite photo from your last vacation – or pick up a hanging wine rack to store towels in the bathroom and free up space in your linen closet.  With a little imagination, you can make almost anything feel as though it's part of your household décor.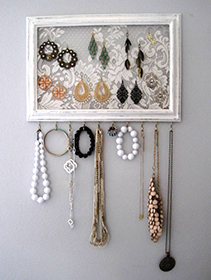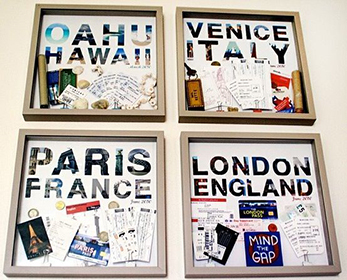 4. The Sky's the Limit
When you've got limited space on the ground, the one way you can go it up!  Shelving provides great space-saving opportunities, while allowing you to store or displace items of your choice.  Pick up some storage boxes to keep items hidden, or give them a place of honor if you're looking to show them off.
With a little ingenuity, and some well-designed furniture pieces – you can turn your small space into an organized oasis.