Do you feel like a guest when entering your new home? Did your remodel leave your home feeling stripped bare? New living spaces feel sterile, and remodeling an existing space can strip away its personality. Either way, your home feels incomplete because it lacks your imprint.
Staging makes a house look finished, but creativity makes it feel finished. A finished home reflects its occupants: the rooms are warm and welcoming without overwhelming the senses. The common areas feature colors matching their intended use, and visitors see treasured objects lovingly placed around the rooms. Are you tired of your home looking staged? Make your home feel finished with these suggestions.
The Basement
Finishing your basement not only makes your home feel finished, but it also adds living space and value that will come in handy when you're ready to sell. Your basement can become flexible space, a permanent man cave, or an art and craft zone. Basements tend to be dark, but you can lighten your space with new garden-level windows and window wells. Seal the basement's concrete walls with a waterproofing product and cover them with sheetrock. A light neutral color that is boring in other rooms makes the basement brighter. Install overhead lighting fixtures and include task lights on end tables and near work surfaces.
houzz.com
Closets
Support that finished feeling with closet organizers. Shoe storage, extra hooks and shelves show the homeowner's emotional investment while keeping things orderly and making it feel less like living out of a suitcase. Neatly arranged closets establish a sense of permanence and make smaller rooms feel larger. Consider installing compartments for folded items and rods specifically for shirts, skirts and blazers, or add units with jewelry and lingerie drawers. You can also build a DIY jewellery caddy for your bedroom wall, giving it a subtle lived-in feeling without making the room look messy.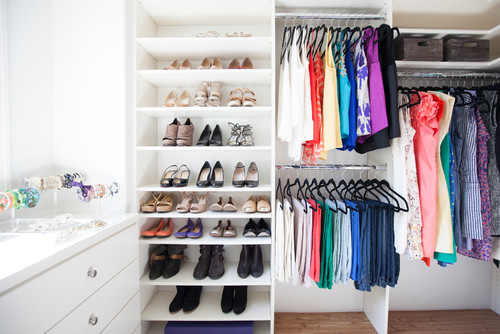 Landscaping
Seeing a landscaped yard when looking through a home's windows can impact its homey feeling. Instead of keeping that Kentucky Blue Grass, design your own water-efficient garden. Once you know your climate zone, you can grow herbs, vegetables and your favorite flowering plants in containers, window boxes and raised flower beds. Adding larger plants instead of seedlings to your property ages it without harming the value as larger plants look established. You might also consider adding a deck or pergola with a paver floor to create an outdoor living space in your backyard.
Add Seasonal Décor
Seasonal décor makes your home feel finished while restoring a sense of continuity. Decorating a new home's exterior can make meeting new neighbors easier and reinforce community ties after a big remodeling project. Holiday decorations also reflect your family's traditions and major events. Your displays will grow over the years, so start small. Buy basic components like wreaths, garland and twinkling lights, then add new items each year to commemorate events such as births, marriages and graduations. Much like a woman's charm bracelet, a family's holiday décor marks important events.
End the Sterile Feeling with Colorful Walls
End the white and choose vibrant colors and period-appropriate décor in your remodeled Victorian, Cape Cod, Art Deco or Craftsman-style home. Stimulate conversation with red walls in the family room and calm tired baby nerves with blue walls in the nursery. Use patterns on accent walls and mirrors to make spaces feel larger. Use decorating a child's room as a chance for some focused family togetherness by having everyone help with painting. Cover an accent wall with chalkboard paint or wall stickers featuring the child's favorite athletes and pop stars.
Kitchens
Nothing says home like a cozy kitchen. Covering its windows with handmade cafe curtains is a great start, but consider shutters made of wood or vinyl. Hang pots and pans from a ceiling rack to add flair and storage space, or start a tea cup and coffee mug collection on an accent wall with lattice work. While you are thinking about the kitchen, consider installing a new backsplash to brighten the room and make cleaning easier. Install a spice rack with fancy apothecary-like bottles. If you have older cabinets, update them with new doors and new handles.
Set the Mood with Window Treatments
Next to paint, window treatments have the greatest impact on a room's atmosphere. Beyond color, their fabric sets the tone, with velvets and brocades that give living rooms their formality. To match the family room's casual feeling, add vertical blinds or window shades. Wondering how to make your home feel finished with children? Let them choose their window treatments and help them select the paint colors for their bedroom walls. Plants also make your home feel cared for, so place them near living room, kitchen and family room windows.
Buy Furniture with Personality
Nothing says "new" like matching furniture. Consider buying used or antique furniture that is in good condition one piece at a time, and only buy those pieces that speak to you. Once you have the larger pieces like occasional chairs, couches and coffee tables, add personal touches. A small footstool or ottoman, tiny framed portraits and a quirky lamp are displays of personality that visitors can appreciate, and they also make a home feel more lived-in. Drape a throw at one end of your couch and add mismatched but complementary throw pillows.
Lighting
When considering how to make your home feel finished, take a look at your lighting fixtures. In many new home subdivisions, you'll see that every house has the same chandeliers and ceiling lights. Disrupt the conformity with personalized or handmade switch plates created with polymer clay or fused glass. Change the ceiling lights in each bedroom to match the décor or the inhabitant's personality, add task lighting with interesting lamp shades or compatible thrift store finds, or make DIY Drum Shades as a family project.