Vinyl Plank Flooring is a popular flooring choice with new deals and promos on often.
Intro
If you aren't familiar with this product, it is vinyl flooring cut into planks. It often comes with a wood floor pattern so that when you install the planks it gives the look of hardwood or laminate flooring but at much cheaper price point.
Depending on what subfloor you have you can install a floating vinyl plank floor that clicks together more like a laminate or there are glue down versions which may work better in a high traffic area such as an office or retail environment.
So what do you need to look for?
One of the first things to look for is the thickness of the plank. Common sizes are 2mm, 2.5mm, 3mm, 3.2mm, 4mm, 5mm, 5.5mm, 6mm, 8mm, and 8.5mm.
Generally a thicker plank is consider a higher quality plank but there are other considerations such as the thickness of the wear layer. A thicker plank is also good for covering up a less than optimal subfloor as it is able to hide some of the imperfections.
The wear layer is the outermost layer on the plank and is the one your feet come in contact with. This layer is what protects the floor from surface scratches and stains so it plays a key role in how durable the plank is and how long the floor will last. When considering the quality of a plank a higher quality plank will have both thick vinyl and a thick wear layer.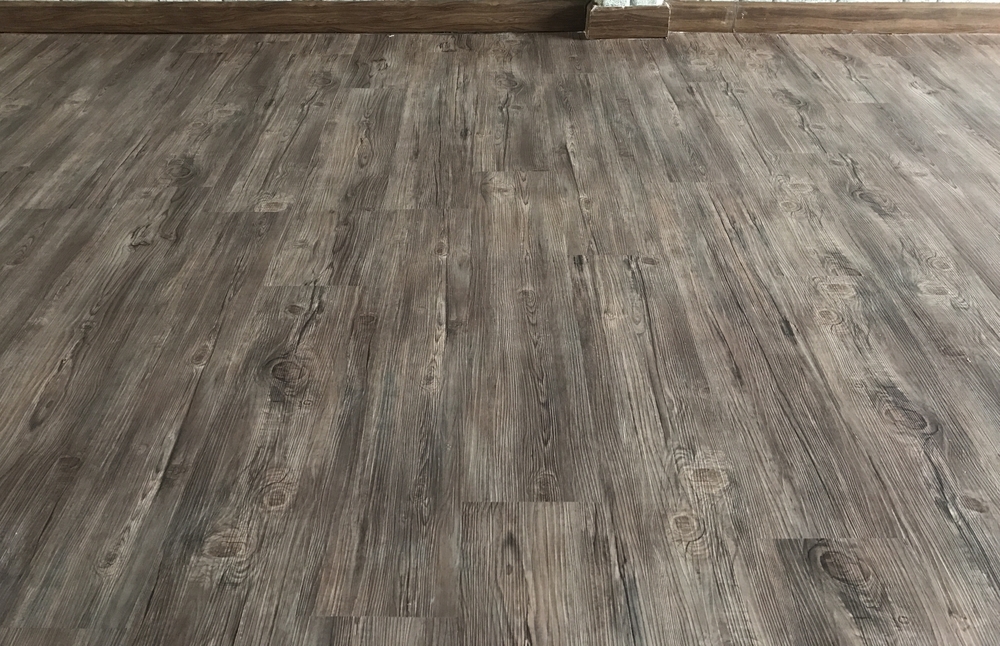 Types of Vinyl Plank Flooring
With vinyl plank flooring there are three main types to be aware of: Luxury Vinyl Planks (LVP), Waterproof Vinyl Planks, and Rigid Core Vinyl Planks.
Luxury Vinyl Planks known as LVP and have a rigid construction that is made to be durable. It is the entry level product for durable vinyl plank flooring and is a step above the peel and stick vinyl flooring options. However, be careful with what you buy here as there is no industry standard when it comes to naming vinyl plank flooring so you'll want to make sure it is a multi-layer product, with a realistic floor image, and a tough wear layer.
Let's start with Waterproof Vinyl Planks. These planks are also known as WPC vinyl flooring and are 100% waterproof. These planks are commonly made with four layers with one of them being a waterproof core. Typical locations to put WPC vinyl flooring are in your basement, kitchen, living room, or anywhere that an accidental spill or where water may come into contact with the floor.
For Rigid Core Vinyl Planks. These planks are also known as SPC vinyl flooring and are also 100% waterproof. What makes a rigid core vinyl plank a rigid core vinyl plank is, you guessed it, its ultra-dense core. With this type of flooring the core is made from a stone-plastic composite that is basically indestructible. This type of plank is commonly used in commercial high traffic locations and in places where heavy objects may be on top of the flooring. The ultra-dense core make this type of flooring unlikely to dent when heavy objects are left on top of it for extended periods of time.
Ok That's Great But What Styles Do They Come In?
When it comes to vinyl plank flooring you are generally looking at two main styles. Planks that look like wood flooring and stone flooring.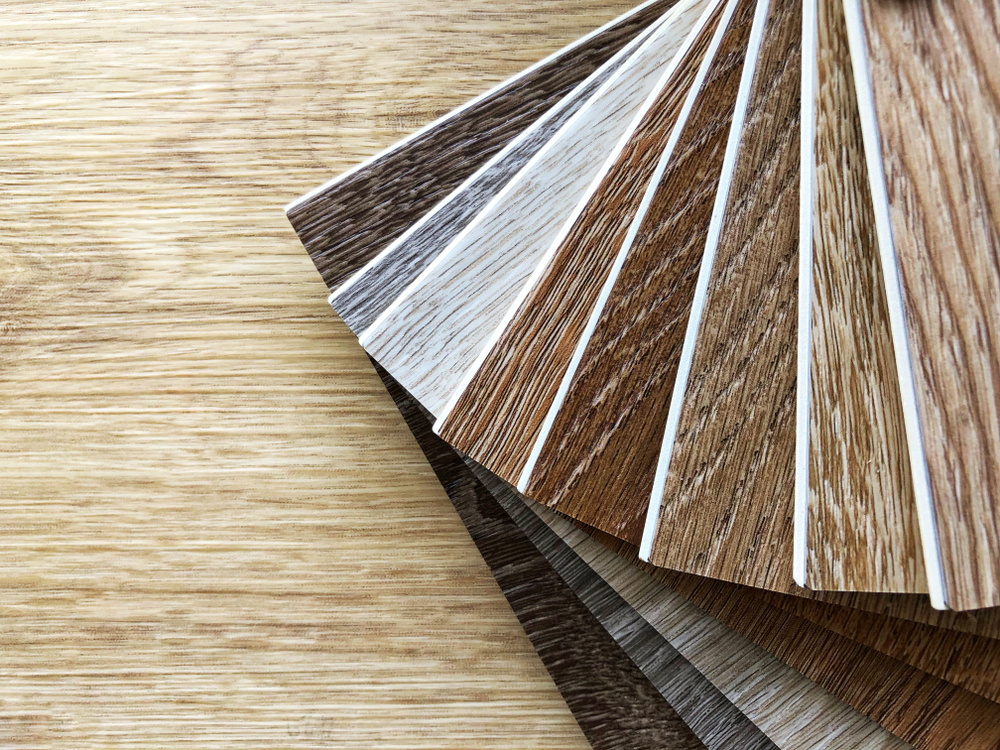 Wood-Look vinyl planks are the most popular as the plank style of the product closely matches the look of hardwood or laminate flooring. What is great about vinyl flooring though is that there are many different colors, wood patterns, textures, and shades to choose from that you can find the perfect look for your home at a fraction of the cost of real wood.
Stone-Look vinyl planks are not as popular as the planks more resemble hardwood flooring but stone vinyl planks do have their place as well. Think of concrete , slate or travertine stone floors and you have a good match with vinyl plank. For those looking to mimic marble or other stones that often come in tile format it is more common to buy vinyl tiles to go for this looks.
Installation Type
There are many different uses for vinyl plank flooring and different installation methods to go with it. The four categories of installation types are: interlocking, peel and stick, glue down, and loose lay.
Peel and Stick vinyl planks have an adhesive backing that you just peel off the back and stick the tile to the floor. While super easy to install peel and stick vinyl planks are usually a lower quality tile that is thinner so that the tile can bend and stick to the sub floor without the plank popping up from the rigidness of the plank. You may want to consider this for a small, low traffic area of your home that just need to get some flooring down to finish off the look.
Interlocking installation is like a laminate flooring installation with the tongue and groove latching cut into the tiles for installation. This is the classic floating floor installation where the planks are not adhered to the floor but use the weight and large connected area to hold the floor in place. As the latching of the planks needs to be strong these planks are mostly rigid durable vinyl planks that hold together well and are thicker tiles.
Glue Down is used in commercial or high traffic areas and is pretty much a permanent solution as the glue is difficult to remove without replacing the sub floor. You will most likely require a professional to install this floor as each piece is glued down as you go and it is important to get it right the first time as once the glue dries there isn't much you can do other than replace individual tiles.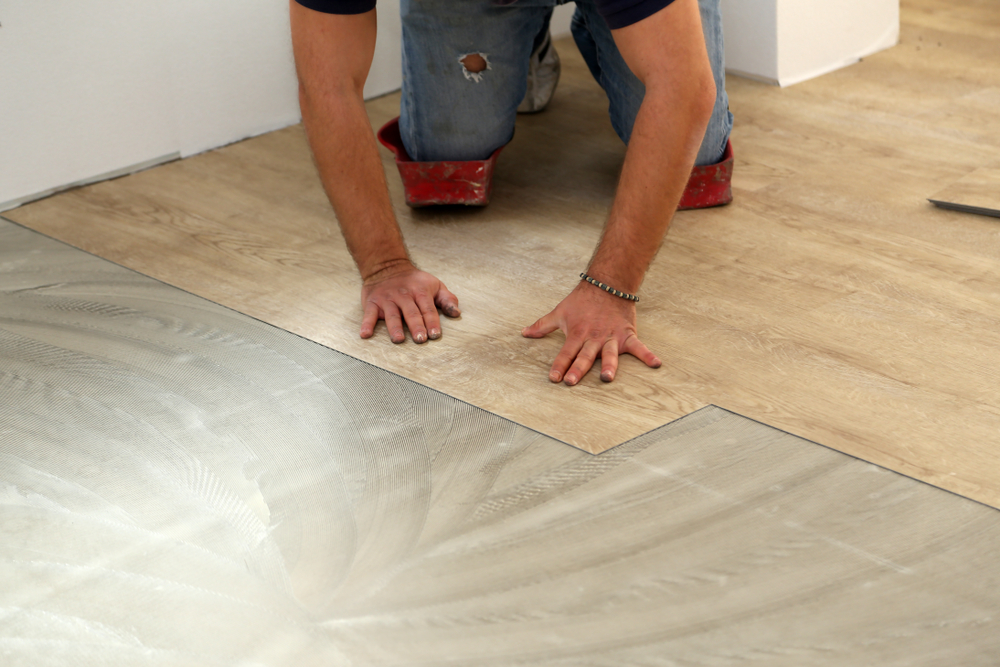 Loose lay installation is for low traffic areas and as the name implies you just lay the planks down without any adhesive or method locking the tiles together. While cheap and easier to install it is not recommended to put these in places with medium to high traffic as the flooring is likely to shift.
Conclusion
Vinyl plank flooring is a great option for many homes with a variety of patterns and looks to choose from as well as several different installation methods to fit your needs. The cost of vinyl plank flooring makes it a more affordable choice in many situations but with the high quality construction of these planks the flooring doesn't look or in some cases even feel like a low quality product.
Also with vinyl plank offered at the big box stores Home Depot and Lowes as well as smaller discount or boutique flooring stores there is lot of different product to choose from that can be purchased the same day.