When it comes to creating a contemporary bathroom design the walk-in shower is a must have. With its clean look and minimalist style it is a central piece to creating a contemporary space.
What is a Walk-In Shower?
While you may think you know what a walk-in in shower is it is worth defining before we get into different looks and shapes. The key feature that makes a walk-in shower a walk-in shower is that there is tub to step over, no curtain to open, and yes even no door to open. To officially be classified as a walk-in shower you have to be able to walk right in and out. So all those nice looking glass showers that have a big glass door, not a walk-in shower.
Now that we know what kind of shower we are talking about here are a few we found that make a big impact on the style of the bathroom.
Blue/Grey Mosaic Tile Walk-In Shower
We love how the blue/grey mosaic tile in this walk-in shower contrasts with the stone wall framing the shower.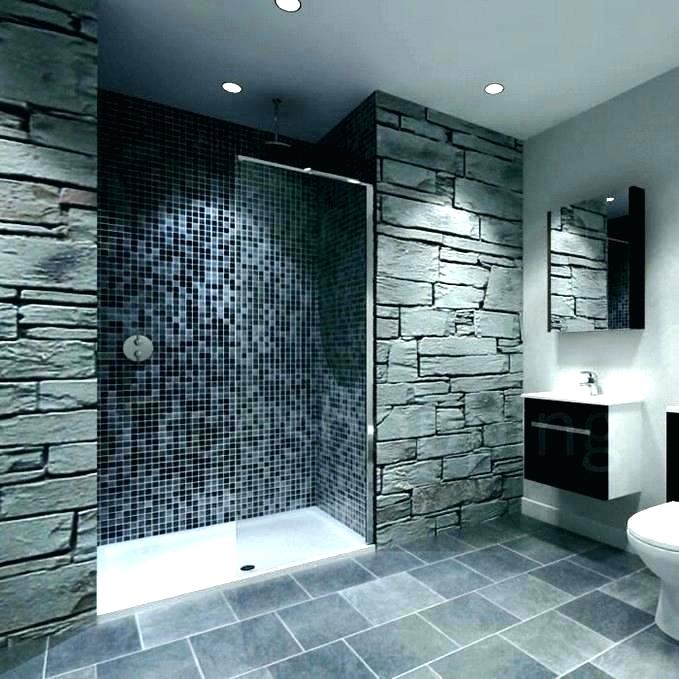 Glass Divider Walk-In
Talk about contemporary clean lines with a minimalistic style. This walk-in shower uses a glass divider to keep the water where it should be without creating any enclosed space.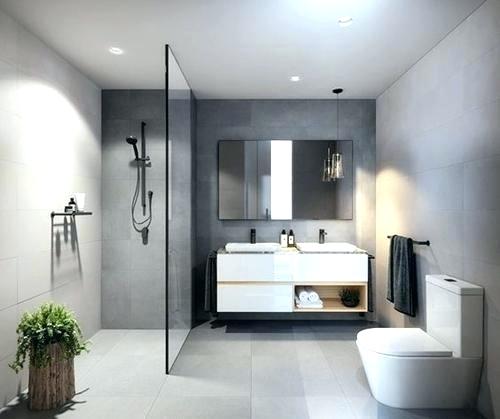 Walk-In Shower with Open Nature Feel
There is just something magical about shower that makes you feel like you're showering in a natural open space. We love the idea of combining a walk-in shower with a half wall, a window to take in the views from outside and a rain showerhead to make if feel like you're one with nature.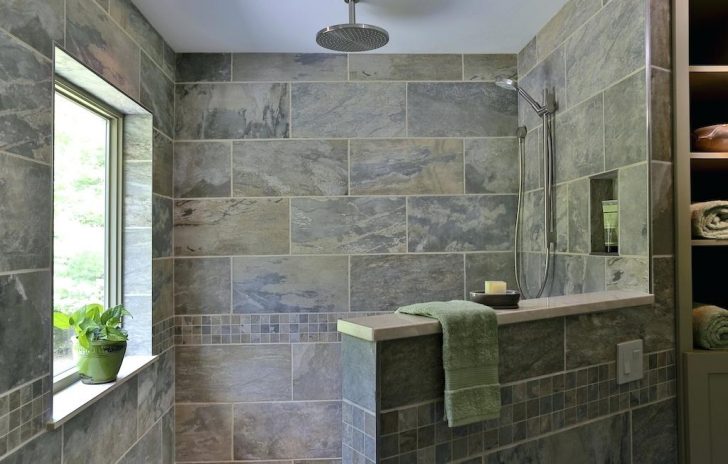 Where to Buy A Walk-In Shower
When it comes to buying a walk-in shower there are many retail places to choose from if what you need is a base and a glass panel. Checking out locations like Home Depot, Wayfair, Amazon and Lowes will get a great start to see what is readily available to. Often times you will need to find a shower base that fits your room and is the shape you are looking for. From there you can often find shower kits that include the glass, framing and hardware to mount with your base. Finally, you'll need to cap off your semi-custom walk-in shower with a shower head that fits your personal taste and style. We love using a rain showerhead but everyone has their own opinion on what the perfect shower is!
Going this route with a pre-made base and a box glass wall and framing is generally less expensive than a fully custom walk-in shower using tiles for all the surfaces. A prefab base will cost anywhere from $150 to $750 depending on the size and shape and glass and framing can cost anywhere from $500 to $1500 depending on finishes and the amount of glass.
However if you are looking for something truly unique then you may be in for a custom design and build. In this case you would be looking to have your contractor doing the bathroom reno to give you some design ideas that work with your space. You'll want to consider things like shape, windows, showerheads, heated floors, and all the bells and whistles you can think of to make your perfect shower space.
For just the shower part you can expect to pay anywhere from $1000 to $3500 for your custom walk-in shower depending on size, complexity, and materials chosen. If you are removing an existing shower space then you can add on another $500 to $1000 for the removal and disposal of your existing shower.
Conclusions
All in all we think a walk-in shower is the best shower design to use in a contemporary bathroom design. With so many ways to design and finish a walk in shower you can be creative and build a truly unique space.
When budgeting having $2000 to $5000 budgeted for your custom shower will give you a good range to work with and then chose finishing materials to either keep you on the lower end of the budget or go for high end finishing and you'll up closer to the upper range on the budget.
Happy Bathroom Reno!